X-GRUNGER (12HP) Module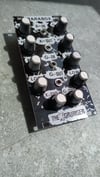 The X-GRUNGER is a 12hp Distortion Eurorack module that combines the circuitry of the famous Grunge and Metal-X pedals by DOD.
The module can be used in any general Eurorack setup but also offers to be played with a guitar using a stereo 1/8 to TRS cable (see videos on the official PARABOX YouTube page)
If you're into heavy sound this module is for you. The possibilities are endless.. It can be used as a preamp due to it's gain but also with a VCA source incoming for all your favorite crazy beat texturing.
Every PARABOX module comes with a power cable, screws, a 6hp + 12hp blank panel, and is shipped safe in a anti-static bag.
Power consumption of ~ 33mA
*** Note the holes under the jacks plate sometimes show a bit, it's a a problem I will try to fix on the futur.